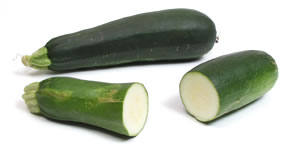 Description
Zucchini are low in calories because they are 95% water.
Availability
Year-round
Peaks May to August.
Shopping
Choose a zucchini under 7 inches long. It should be firm, plump, glossy, and uniformly bright. Avoid bruises and soft spots.
Storage
Store zucchini in a perforated plastic bags in the refrigerator crisper for up to 6 days.