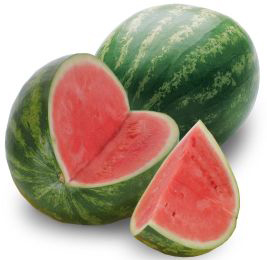 Description
Watermelon skin color ranges from deep green to gray, solid to streaked or dappled.
Availability
Year-round
Peak June through October.
Shopping
Avoid shiny, dull rinds. Look for a waxy rind. The underside should be yellowish. The stem should look dry and brown. Cut watermelon should have dark seeds. If the seeds have begun to separate from the flesh, or you see white streaks, or large cracks in the flesh, avoid it.
Storage
Store an uncut watermelon for up to a week. It takes eight to 12 hours to chill a watermelon. Cut watermelon should be tightly wrapped in plastic and refrigerated for no more than four days.