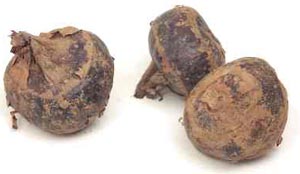 Description
Their crisp white flesh has a mildly sweet flavor and a crunchy texture that is actually closer to apples than to any kind of nut. The water chestnut grows underwater in mud.
Availability
Year-round
Peak from early summer through late fall.
Shopping
Water chestnuts should be smooth, hard, and free of soft spots. Choose the largest ones.
Storage
Store unwashed and unpeeled in a plastic bag in the refrigerator crisper for up to two weeks. Place peeled water chestnuts in a bowl of cold water and refrigerate for up to two days.