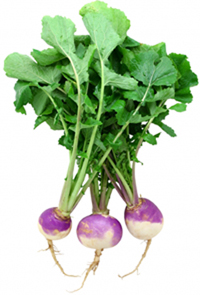 Description
The turnip is a round root with white or cream flesh that is eaten as a vegetable and also has edible leaves.
Availability
Year-round
Peak October through March.
Shopping
Look for smooth, firm turnips. Avoid shriveled and bruised turnips. Avoid turnips larger then 3 inches.
Storage
Cut off leaves and store turnips in the refrigerator crisper for up to a week.