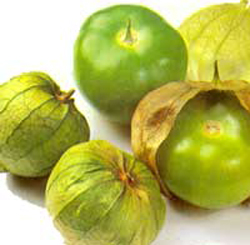 Description
Tomatillo means little tomato. Tomatillos are enclosed in papery brown husks. They are usally used green (unripe). They have a tar lemony flavor great for salsa.
Availability
Year-round in Latin-American grocery stores.
Shopping
Select shiny, dry, firm tomatillos with clean, dry husks. Avoid sticky or yellow Tomatillos.
Storage
Refrigerate tomatillos in a paper bag up to one month.