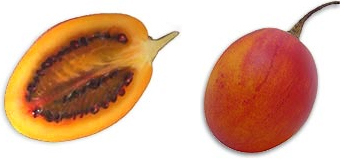 Description
Tamarilllos have a purplish-red or crimson skin with a dark orange flesh. They have a plumlike texture with a bitterish, astringent flavor.
Availability
Tamarillos are available from May through October.
Shopping
Choose a fragrant, deep colored tamarillo that gives slightly to finger pressure. Avoid blemishes and small or shriveled fruit.
Storage
Ripen at room temperature. Tightly wrap in plastic and refrigerate tamarillo up to 10 days.