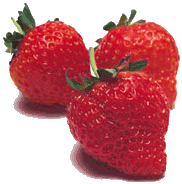 Description
There are 70 varieties of strawberries. Most are grown in California and Florida.
Availability
Year-round
Peak from April through July.
Shopping
Strawberries should be a rich red, plump, dry, firm, well shaped and uniformly colored. Size does not matter. Avoid withered, moldy, crushed, pale, greenish, yellowish berries. The leafy caps should look fresh and green.
Storage
Cover and refrigerate for a few days. Lightly wrap with plastic.