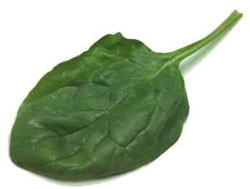 Description
The three types of spinach are Savoy, Flat or smooth-leaf, and Semi-savoy.
Availability
Year-round
Spinach peaks during the mild winter months.
Shopping
Look for unbroken leaves with good green color and a crisp, springy texture. Avoid wilted, crushed, bruised leaves, yellow spots and insect damage. Fresh spinach should smell sweet. Avoid a sour or musty smell. Look for stems that are fairly thin.
Storage
Pack it loosely in a plastic bag and store in the refrigerator crisper. Spinach will keep for up to four days.