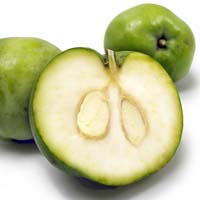 Description
Sapote is a nearly seedless, orange-size fruit with a green to yellow skin and mild, creamy-textured white flesh.
Availability
Florida-grown fruit is available in the spring.
California-grown is available in late summer and fall.
Shopping
Choose firm sapote and ripen at room temperature for a few days.
Storage
Refrigerate sapote when it is soft.