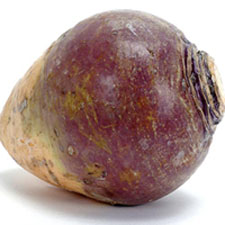 Description
Rutabagas are tan, with a dark purple band at their crown. They have a lumpy, irregular shape and are often coated with a thick layer of clear wax to prevent moisture loss.
Availability
Year-round
Peak from September to June.
Shopping
Avoid scars, bruises and mold. Rutabagas should feel firm, smooth and solid. Smaller rutabagas are sweeter.
Storage
Refrigerate rutabagas for up to two weeks or at room temperature for about a week.