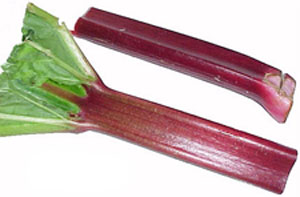 Description
Rhubarb is very tart and require sweetening to make them appetizing. The two types are hothouse-grown and field-grown. The hothouse variety has a somewhat milder flavor and is less stringy.
Availability
Rhubarb is available from April through July.
Hothouse rhubarb is available from January through May.
Shopping
Choose well-colored, good-sized, straight, firm crisp stalks. Avoid stalks that are limp or with bruises and blemishes.
Storage
Cut off the leaves and place the stalks in plastic bags. Refrigerate rhubarb in a crisper for up to a week.