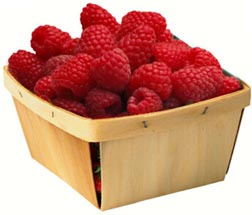 Description
Raspberries can be red, yellow, apricot, amber, black, and purple. Each rasberry is composes many small fruits with their own seed.
Availability
Red rasberries: year-round, peak June to September
Yellow rasberries: June to October
Black rasberries: July
Shopping
Raspberries should be plump, dry, firm, well shaped and uniformly colored. Avoid withered, moldy, or crushed berries. Stained containers are a bad sign.
Storage
Refrigerate raspberries for up to two days.