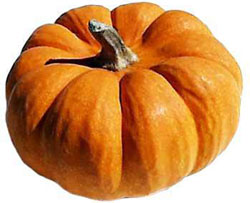 Description
Jack-o'-lanterns: Large cavities and thin walls.
Japanese pumpkins: Turban-shaped rough shell with deep green and pale green stripes. Very sweet.
Mini pumpkins: Available in creamy-white and orange. Used as ornament.
Pie pumpkins: Very high flesh-to-seed-cavity ratio.
Availability
Fresh pumpkin is available in the fall and early winter. Canned pumpking is available year round.
Shopping
When buying canned pumpkin get solid-pack pumpkin puree with no added spices or sweeteners.
Storage
Refrigerate large pumpkins for a week. Refrigerate smaller pumpkins for one month.