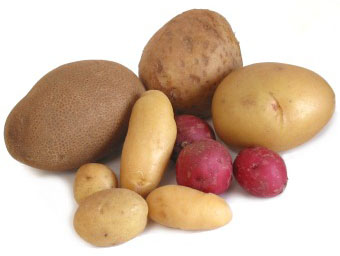 Varieties
Long russets: Classic baking potatoes.
Long whites: All purpose potatoes.
Round reds: Good for boiling.
Round whites: Multipurpose potatoes.
Availability
Year-round
Shopping
Choose individual potatoes from a bulk display. Choose firm, clean, smooth, well-shaped potatoes. Avoid skin free of cracks, wrinkles, dampness, black spots, bruises, or discoloration.
Storage
Keep the potatoes in a burlap, brown paper, or perforated plastic bag. Remove any that have sprouted, softened, or shriveled.