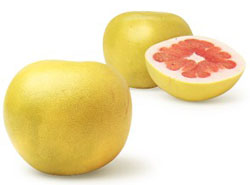 Description
Pomelo looks like a large grapefruit that has been narrowed slightly at one end. They can be as large as basketballs. They have a thick skin which makes them less juicy then grapefruit.
Availability
January to February.
Shopping
Look for glossy, round, smooth pomelo that are heavy for their size. Avoid gray-brown spots.
Storage
They can be left out for a week or refrigerated for up to eight weeks.