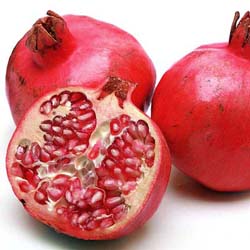 Description
Pomegranate juice contains a large amount of antioxidants. The seeds are edible.
Availability
August to December
Shopping
Select fruit that is heavy for its size. The skin should appear shiny, taut and thin, without cracks or splits. Avoid shriveled, dull, or overly hard pomegranates.
Storage
Keep at room temperature for 2 to 3 days. Refrigerate up to a month. Freeze up to 3 months.