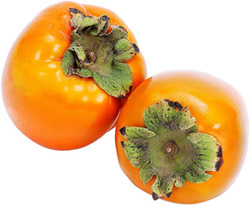 Description
There are two types of persimmons: astringent and nonastringent. Astringent persimmon has two personalities. When ripe, it possesses a rich, sweet, spicy flavor. The unripened fruit tastes so bitter that biting into it causes the mouth to pucker. The two commercial varieties are Hachiya and Fuyu.
Availability
October to February. Peak in October.
Shopping
Choose persimmons that are smooth, brightly colored, plump, glossy, well-rounded and with their leaf still attached. Avoid cracks and bruises. Yellow patched indicate unripe fruit.
Storage
Unripe persimmon can be refrigerated a month before ripening. Riped at room temperature for around a week till the fruit is soft. Once ripe only refrigerate for a few days.