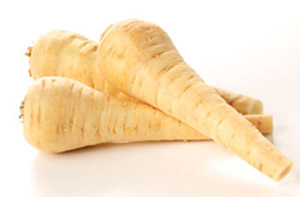 Description
Parsnips resemble carrots. They have a mild celery-like fragrance and a sweet, nutty flavor.
Availability
Year-round
Low supply in summer.
Shopping
Choose small to medium, firm, smooth parsnips, free of pitting. Avoid an abundance of hairlike rootlets, soft, limp, shriveled, spotted, irregularly shaped parsnips.
Storage
Wrap parsnips in a paper towel and refrigerate in a palstic bag in coldest moistest part of the fridge for up to a month.