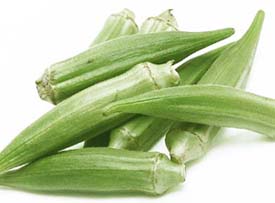 Description
Okra tastes like eggplant and asparagus
Availability
Year-round
They peak June to August.
Shopping
Choose small pods that are no more then 3″ long. Choose pods that are crispy, and uniform in color. Avoid okra pods that are hard, brownish, shriveled, or blackened.
Storage
Store untrimmed, uncut okra in a paper or plastic bag in the refrigerator crisper for up to 3 days.