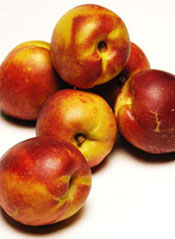 Description
Nectarines are sweeter than peaches. There are 150 varieties.
Availability
Year-round
Peak in spring and summer.
Shopping
Select bright, well-rounded nectarines with shades of deep yellow under a red blush. Ripe fruit should yield to gentle pressure and it should have a sweet fragrance. Avoid rock hard, greenish, mushy, and shriveled fruit.
Storage
Store at room temperature untill the nectarine gives slightly to gentle pressure. Refrigerate for up to 5 days.