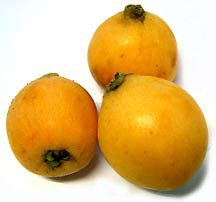 Description
Golden-skinned tropical fruit resembling an apricot. Loquat has a firm, sweet-tart flesh. The flesh can be orange, yellow, or white. They taste like plums or cherries. Eat them raw.
Availability
Available in July and August. Canned loquats are sold in Asian markets.
Shopping
Choose large, unblemished loquats. Avoid bruises.
Shopping
Refigerate loquats in a palstic bag for up to 3 days.