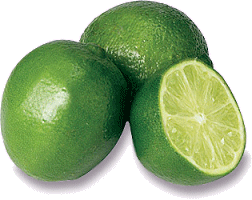 Description
Limes are slightly sweet and tangy. There are two types of limes. Tahitian limes are greenish yellow when fully mature. Key limes are smaller and rounder, with a higher acid content than Tahitian limes. They are only grown in Florida.
Availability
Year-round
Peak June through August.
Shopping
Limes should be firm, glossy, and bright. Limes turn from green to yellow as they ripen. Immature fruits have the tart juice. Avoid hard, shriveled, moldy, spongy, or soft limes.
Storage
Refrigerate Limes immediately. Store in a plastic bag in the crisper for up to two weeks.