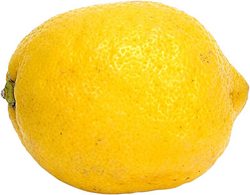 Description
The two basic types of lemons are acid and sweet. The acidic types are the most commercially available. The sweet types are grown usually by home gardeners.
Availability
Year-round
Peak April through August.
Shopping
Lemons should be firm, glossy, and bright yellow. Heavy fruits with fine-grained skin are juiciest. Avoid hard, shriveled, spongy, and soft lemons.
Storage
Lemons will keep for two weeks without refrigeration. Store in a plastic bag in the refrigerator crisper for up to three weeks.