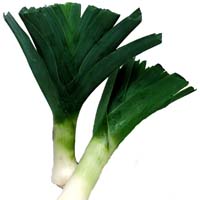 Description
Like onions leeks are used to add flavor to various dishes. Leeks have a milder and sweeter flavor than onions and a crunchy texture when cooked.
Availability
Year-round
Peak fall to early spring.
Shopping
White ends should be relatively straight and not exceed 1 1/2″ in diameter. Leaf tops should be fresh and green. White root end should show a firmly attached fringe of rootlets and several inches of unblemished skin, which will give very slightly to pressure. Avoid wilted or torn greens or split or oversized bulbs.
Storage
Refrigerate for up to a week. Store loosely wrapped in plastic.