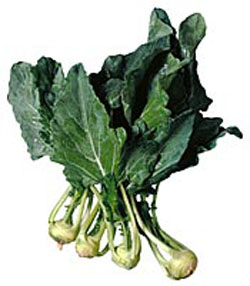 Description
Kohlrabi can be green or purple. Purple kohlrabi has a spicier flavor. Kohlrabi is a crispy and sweet tasting.
Availability
Year-round
Peak in June and July.
Shopping
Avoid kohlrabi with wilted leaves, bruises, soft spots, cracks or yellowing. Choose a kohlrabi with a small smooth bulb and firm leaves. Select a medium sized kohlrabi.
Storage
Refrigerate kohlrabi for up to three weeks. (remove leaves, they will only last a few days)