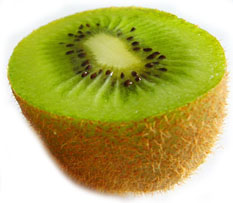 Description
Kiwi can taste anywhere from sweet to tart. They look like fuzzy brown eggs.
Availability
California kiwi: November t0 May
New Zealand kiwi: June to October
Chile kiwi: May to July.
Shopping
Choose plump, fragrant kiwi fruit that yield to gentle pressure. Avoid soft, bruised or shriveled fruit.
Storage
When ripeing keep kiwi away from heat and sunlight. Refrigerate for up to three days.