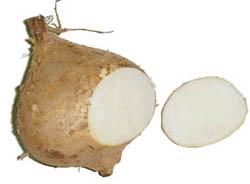 Description
Jicama is sometimes called the Mexican potatoe. It can be used in many of the same ways a potato is used. The skin must be completely stripped off.
Availability
Year-round
Shopping
Choose medium sized, hard, smooth Jicamas. Avoid shriveled, sticky, cracked, pr bruises jicama.
Storage
Store jicama in a cool dry place for up to three weeks.