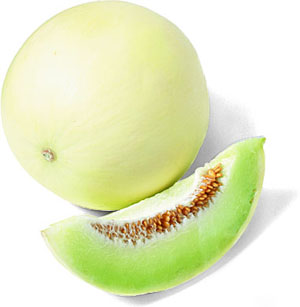 Description
Honeydew a creamy white or yellow-green rind that ripens to creamy yellow. The flesh is usually pale green.
Availability
Year-round
Peak June through October.
Shopping
Honeydew should be symmetricaly shaped and free of cracks, soft spots, or dark bruises. Slight softness is a good sign. Fruity fragrance is a good sign of maturity. Thumping and shaking are not effective indicators of ripeness.
Storage
Leave the honeydew at room temperature for two to four days to make it softer and juicier. Refrigerate and use within about two days.