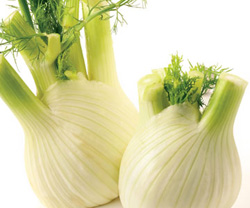 Description
Fennel has a mild sweet flavor similar to licorice or.
Availability
Fennel is available in the fall and winter
Shopping
The fennel bulbs should be firm and clean, the stalks straight, and the feathery fronds fresh and green. The bulb should be compact, with the stalks closely spaced rather than spread out. Avoid bulbs that show any brown spots or signs of splitting, or are shrivelled and dried out. Also avoid stalks with flowers.
Storage
Refrigerate fennel for up to 4 days.