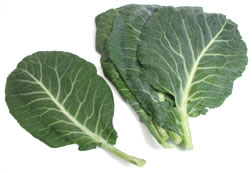 Description
Collard greens are a member of the cabbage family.
Availability
Collard greens are available in the winter.
Shopping
Choose smaller leaves plants for tenderness and mild flavor. Look for a fresh green colored, moist, crisp, unwilted leaves. Avoid yellow, brown, or blemished leaves. Timy holes indicate insect damage.
Storage
Store unwashed collard greens in damp paper towels (in a plastic bag) in the refrigerator crisper for up to five days.