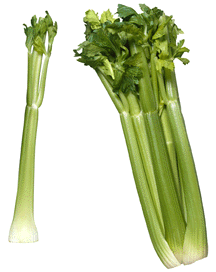 Description
Celery is very low in calories because it is mostly water. 90% of the domestic crop is produced in California and Florida.
Availability
Year-round
Shopping
Look for light green celery with straight stocks and rigid ribs that snap when bent. Avoid celery that is overly large, dark green, wilted, discolored, or bruised.
Storage
Refrigerate celery in a plastic bag in the crisper for up to 10 days. To prevent dehydrated celery sprinkle it with water occasionally. If stalks are wilted when you want to use them submerge them in ice water for several minutes.