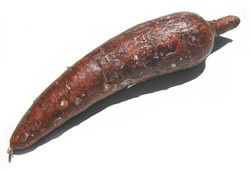 Description
Cassava is also called yuca. It is shaped like a long potato and is covered with a hairy brown barklike skin enclosing soft dense white flesh.
Availability
Year-round
Shopping
Cassava can be found in Latin American markets. Look for dry, hard, clean roots with white flesh.
Storage
Cassava doesn't keep well, but it may stay fresh for a few days in the refrigerator or in a cool, dry place.