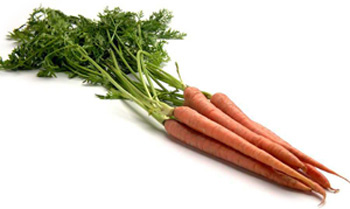 Description
Carrots are a great source of Vitamin A.
Availability
Year-round
Peak season from October through April.
Shopping
Color should be a healthy reddish orange, not pale or yellow. The top should be tinged with green, but should not be dark or black. Avoid carrots that are cracked, shriveled, soft, or wilted.
Storage
Keep carrots in the refrigerator crisper in a perforated or loosely closed plastic bag. Don't store carrots together with apples or pears. Cut off the top leaves before storing.