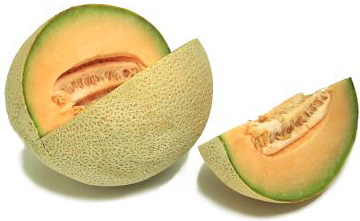 Description
Canteloupes have a very juicy sweet flesh. Most U.S. cantelopes come from California, Arizona, and Texas.
Availability
Year-round
Peak June through August.
Shopping
Cantaloupes will not ripen once they have left the vine. They should be slightly golden, not a dull green. It should give to gentle pressure and smell sweet. It should sound hollow when knocked on. Avoid lunmps and soft spots.
Storage
Keep cantaloupe refreigerated for up to 5 days.