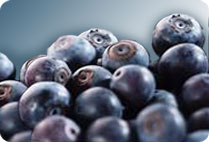 Description
Blueberries are very high in antioxidants.
Availability
Domestic blueberries are available from May through October. Imports fill in the gaps allowing us to enjoy blueberries year round.
Shopping
Look for firm, large, plump, full-colored blueberries free of moisture. Avoid mushy and moldy berries. The blueberries should move freely when you shake the container.
Storage
Blueberries will last seven days in the fridge.