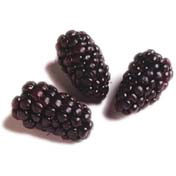 Description
Wild blackberries are relatives of the rose and the soft, juicy fruit grows on thorny bushes or trailing vines.
Availability
Blackberries are available May through September, with peak season occurring in June and July.
Shopping
Look for blackberries with full, deep color, a bright, clean appearance, and firm, not hard, texture. Avoid soft, moldy and leaky blackberries. If the hulls are attached the blackberries were picked to early.
Storage
Blackberries are very perishable and should be used immedietly. Refrigerate lightly covered in a single layer for up to two days.