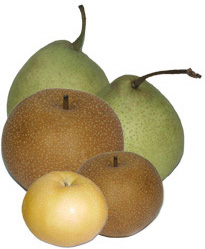 Description
Asian pears look like large, greenish-brown apples. They are quite crisp and have less of a pear flavor than other pears. They are in limited supply, and usually more expensive.
Availability
Asian pears are available July to October.
Shopping
Look for hard Asian pears with a mild pear fragrance.
Storage
Store Asian pears for up to 4 weeks ina plastic bag in the refrigerator. Store at room temperature for up to 2 weeks.