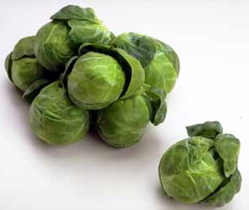 Description
Brussels sprouts are named after the capital of Belgium. Brussels sprouts are minature heads of cabbage.
Availability
Year-round
Peak in November and December.
Shopping
Look for a bright green color. Choosing small, firm, compact ones with unblemished leaves. The stem ends should be clean and white. Avoid yellow or wilted leaves and tiny holes.
Storage
Cover brussels sprouts with the cellophane and refrigerate for six days.